When we think of a typical Indian village, what comes to our mind? The green lustrous farms, homely food, the starry nights, clean air full of nature's fragrance, dearly people, peacefulness and... defecating in the open.
Up until now, we always had this tendency to accept this fact as a way of life in the villages. But it's high time to change that. It's something one shouldn't be proud of, because of the endless disadvantages it carries. When the Prime Minister of the country addresses such issues in it's national address on the Independence day, then there is no doubt that it's time we take this up seriously.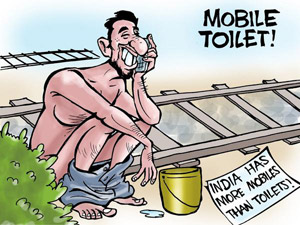 Source : www.sundaytimes.lk
One can't argue to the fact that sanitation and open defecation is one of the biggest concern for the country. Close to 600 million people in the country defecate in the open today. This number is greater than entire population of countries like Denmark, Finland, Singapore, Ireland etc.
It increases the risk of microbial contamination of water which causes diseases like diarrhea. 2,15,000 children under 5 years of age die because of diarrhea.
20% of deaths among under-14 children is caused by poor sanitation and hygiene.
Close to 28 million school children do not have access to school toilet facilities.
Countless number of school days are lost due to lack of access to safe water, sanitation and hygiene.
Only 6% of rural children less than 5 years of age have access to toilets.
India accounts for the most number of under-5 deaths.
These are hard facts which give an idea of the seriousness of the problem. It poses direct threat to the lives of countless innocent children and others all across the country. Not to forget the impact it has on dignity of human life.
So, what can we do about it? Raise awareness, for one. Recently, following the Prime Minister's speech on Independence day, a group of newly wed women in a small village in UP decided to leave their in-law's house as it didn't had toilets. As a result, toilets were established in the village to bring them back. This is a good example of how awareness brought a good change for them, and all the others in the village.
I wondered for long, what can I, so far away from the site of action, busy in the life do something for such a cause? And then today morning I came across this initiative taken by Domex. With every click Domex contributes
₹5 for making villages open defecation free. They are already on their way in doing so starting with the states of Maharashtra and Orrisa.
This hardly take 30 seconds of your life and is surely more effective than liking and sharing pictures on facebook.
Bring about the change in the lives of millions of kids by showing your support for the Domex Initiative. All you need to do is "click" on the "Contribute Tab" on
www.domex.in
and Domex will contribute
₹
5 on your behalf to eradicate open defecation, thereby helping countless kids live a dignified life.